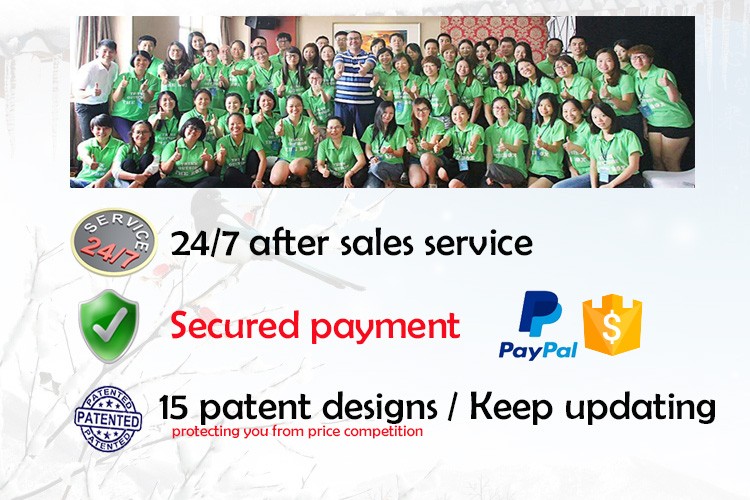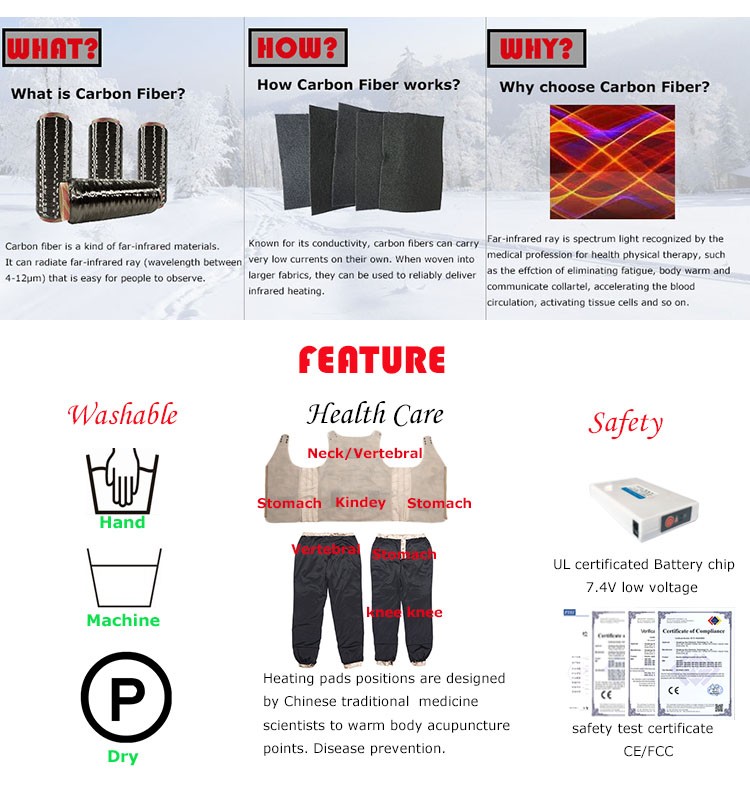 At winter people,it is your brand,your story!

Stay warm without the bulk! Look slim and energetic the whole winter season!
Trendy Style Men Blazer Designs Custom Casual Heating Man Suit with 7.4V battery !!
7.4 V, 6000mAh Battery & Charger Included: Portable& Rechargeable; Working hours up to 8 Hours
Outer: Soft shell; Water Resistant, Wind Resistant, Washer Safe;
Carbon Fiber Heating Technology; Core Warming Zones on stomach, kidney, neck.
LED Controller with 4 Levels Temperature Setting (Pre-Heat, Low, Medium, High)
Perfect Gift for Hiking, Hunting, Motorcycling, Outdoor in the Cold.

Product Type

battery heated men suit

Heating Pads

5 heating carbon fiber pads

Fabric

camouflage cloth

Lining

Soft & Breathable Sandwich mesh cloth

Size

S to XXXXL



Battery

7.4V /6000mAH

Input voltage: 110-220 V

Voltage/output current: 8.4 V/ 1 A


Working Time

High Temperature(Red LED):3-4 hours

Middle Temperature (White LED):5-6 Hours

Low Temperature (Blue LED):7-8 Hours

Temperature

High Temperature:70-75 degrees

Middle Temperature: 60-65 degrees

Low Temperature: 40-45 degrees

Function

1.Keep you warm,Eco-Friendly, 0 radiation

2.Health Function: 5 heating pads toprotect your knee stomach and kidney.




Washable

Hand washable/Dry washable/mechine washable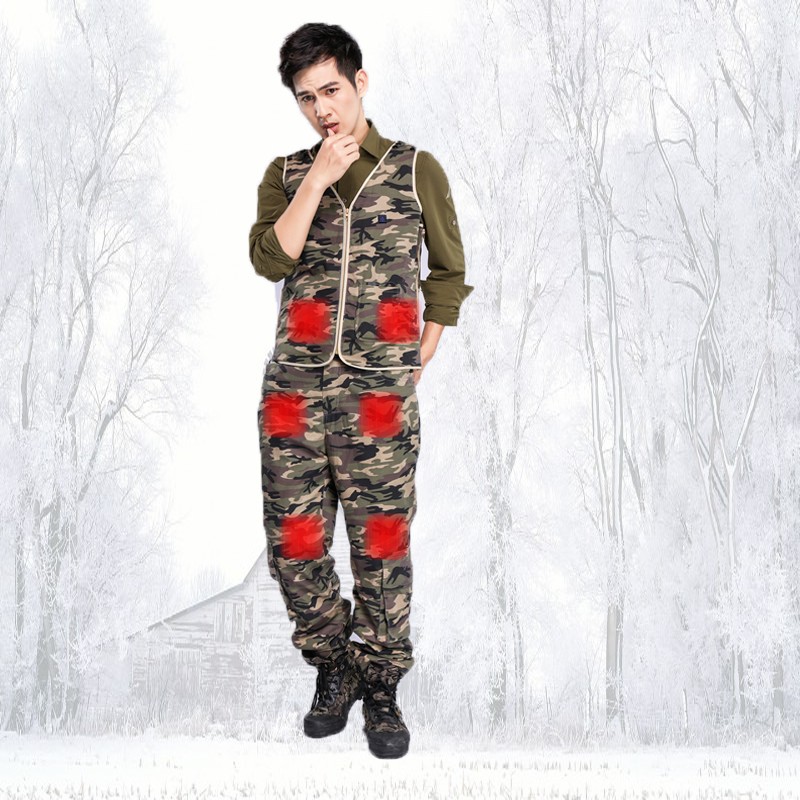 More details about battery heated hunting pants
Mulit-function for heated vest/Jacket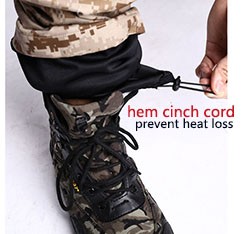 Patent design

Prevent heating loss. Extend heating duration. Keep you warm always.

High-grade mesh lining: Flexible and breath-ability enough to make you comfortable

5 heating pads position are designed by traditional Chinese medicine scientists. It is prefect for health care, care about you knees, stomach and kidney.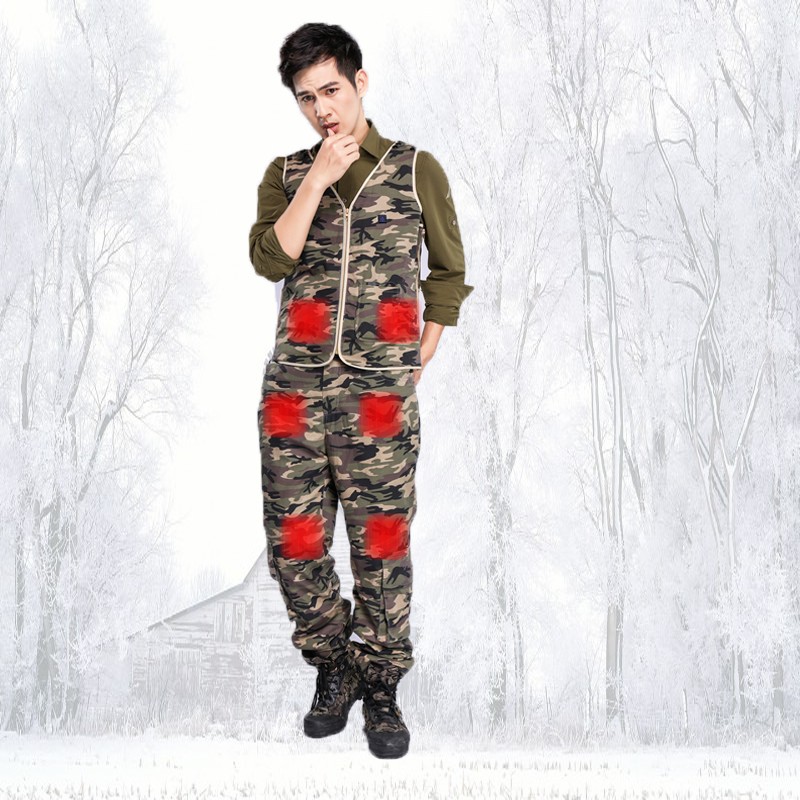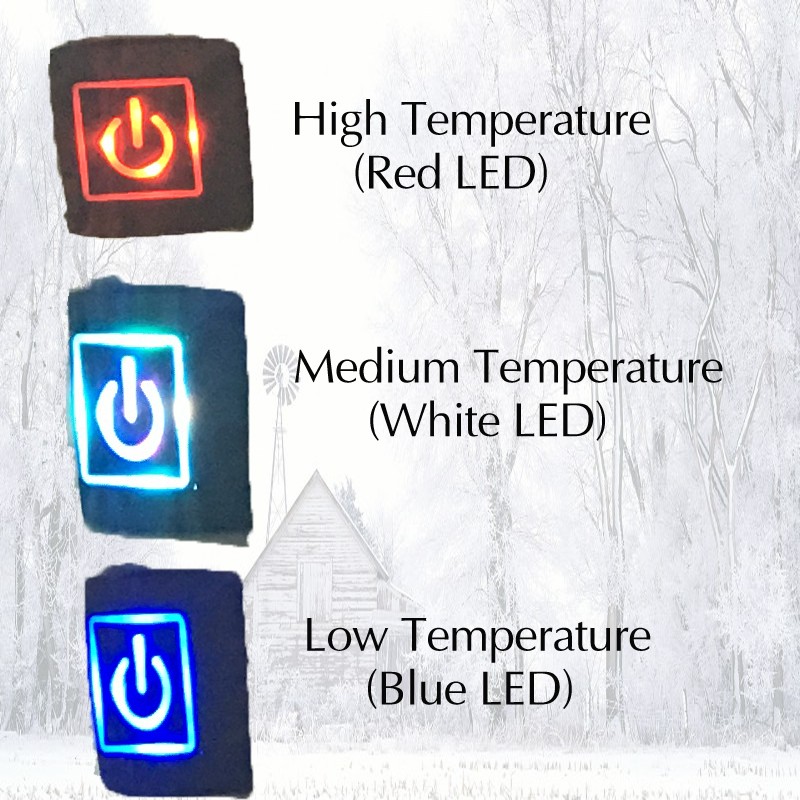 | | | |
| --- | --- | --- |
| Temperature Level | Temperature | Lasting period |
| High | 70-75 ℃ | 3-4 hours |
| Medium | 60-65 ℃ | 5-6 hours |
| Low | 40-45 ℃ | 7-8 hours |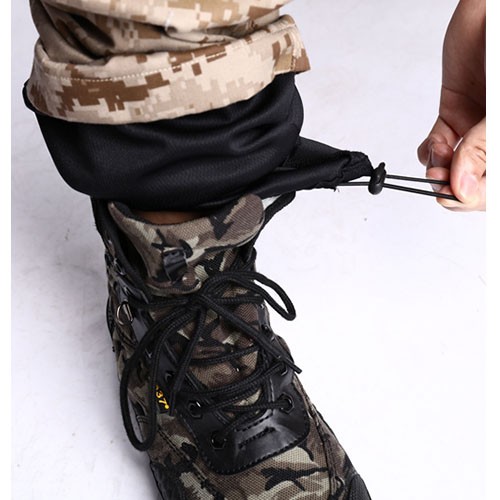 Battery is most important for heated jacket
7.4V 6000mAH li-polymer rechargable battery is more safer than Li-ion battery.
Multi-functional design -two jacks design is more convenient for customer.
7.4V DC jack is for heated clothing,offer higher temperature .
5V USB jack can charge for mobile phone.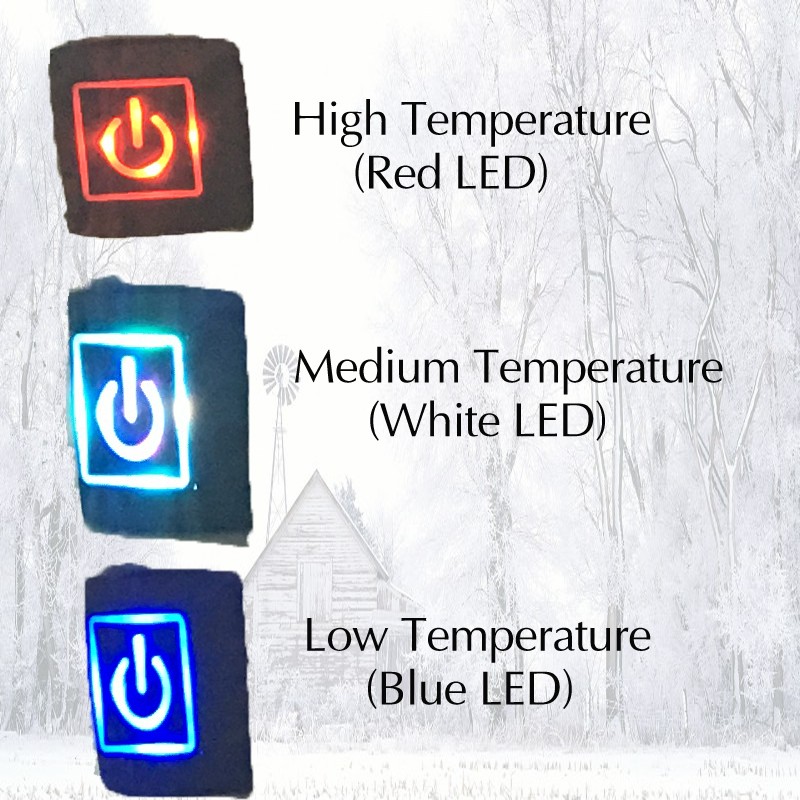 | | | |
| --- | --- | --- |
| Temperature Level | Temperature | Lasting period |
| High | 70-75 ℃ | 3-4 hours |
| Medium | 60-65 ℃ | 5-6 hours |
| Low | 40-45 ℃ | 7-8 hours |


How to used it?
Step 1: put the power into pock,connect the power core
Step 2:Turn on the power supply,pressing temperature button for 3 seconds,heating system star test(Red,white and blue light flash once then turn off)
Step 3: press temperature button for 3seconds again to choose heating Level:
H: 3-4 Hours 55℃ (red light)
M: 4-5 Hours 50℃ (orange light)
L: 6-7 Hours 45℃ (green light)
Suitable for outdoor sport such as motorcycle/bicycle,climbing mountain,sking ,hunting fishing ,camping ,ect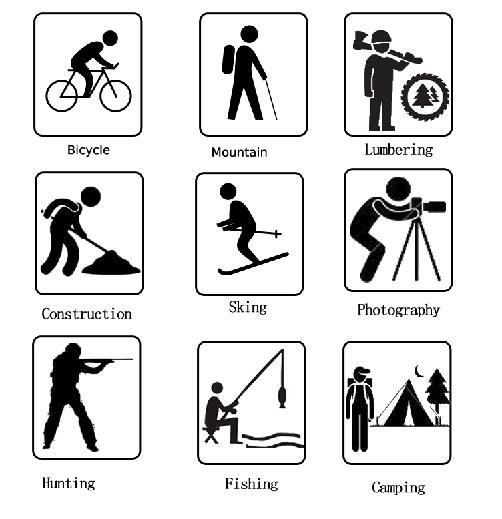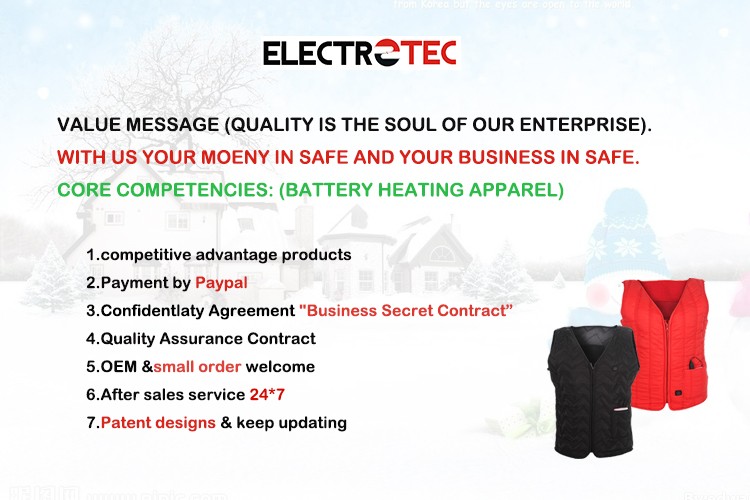 Shenzhen Electrotec Business Limited is a venture capital enterprise of Hong Kong Sam Electronic Group.

Our value message is QUALITY AND CUSTOMER SERVICE ARE OUR CULTURE.
16 patents for design and utility.
As a R&D proprietary company, Electrotec spends more than 30% of annual revenue on R&D every year.
CE&FCC&RoHS certificated.

Our Core competencies are health care functional apparel for extreme weather and related products. Our design idea is to help people to live comfortable daily life.
FOR COLD WINTER: Far infrared battery heated warm clothing: jacket, vest, jeans, shirts and OEM style.
FOR HOT SUMMER: Cooling fan air conditional apparel
PERSONAL THERAPY: insole, knee pad, neck wrap. waist belt, wrist wrap

With ElectroTec, you will always have AN EDGE OVER YOUR COMPETITORS with new technology and unique design products
"With us your MONEY in safe , your BUSINESS in safe"

Q1:Can it washable?
A1: Waterproof Power plug, it can be hand/machine/dry washing.

Q2: Does your products safe?
A2:1. Far infrared carbon fiber has insulation function.
2. 7.4V low voltage is safe for human body

Q3:What is include?
A3:7.4V 3000mAH power bank,USB Cable.

Q4:What is the payment term?
A4: We accept T/T, Western Union, Paypal, Money Gram, L/C.

Q5: What is the MOQ?
A5: Our MOQ is 1 piece(sample),and also accept OEM.