- Characteristics of product:
1.Structure with corrugated aluminum tape against moisture,loose tube stranding with single sheath;
2.Loose tube material has good hydrolysis resistance performance and high strength;
3.Compact structure, excellent water-blocking performance;
4.Strict manufacturing processes. Good mechanical performance and environmental properties.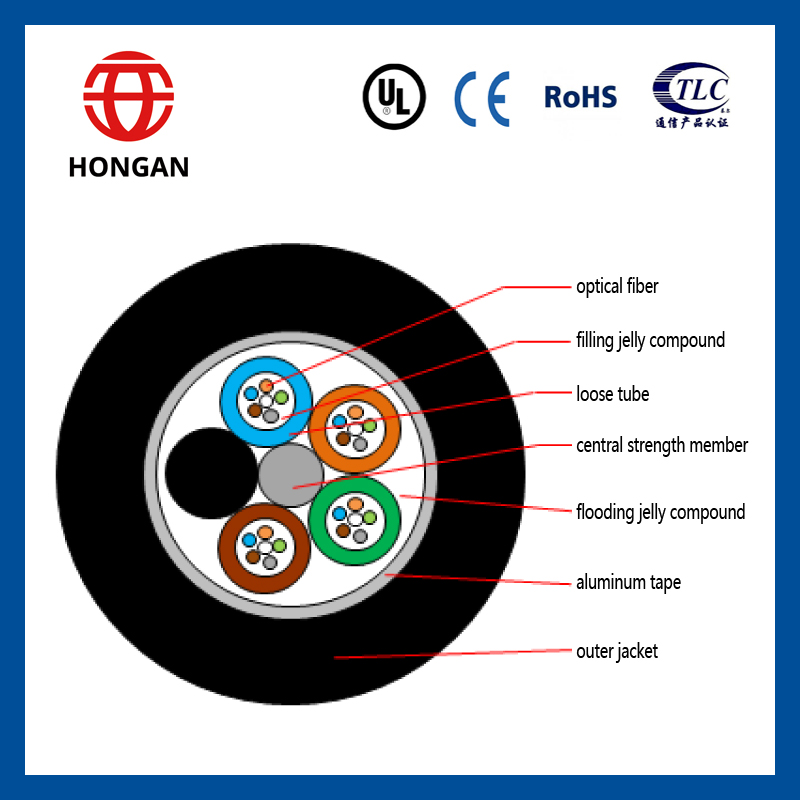 -Product Applications:
1.Duct,aerial;
2.Long haul communications system;
3.Relay communication system;
4.Core network , metropolitan area network and access network etc.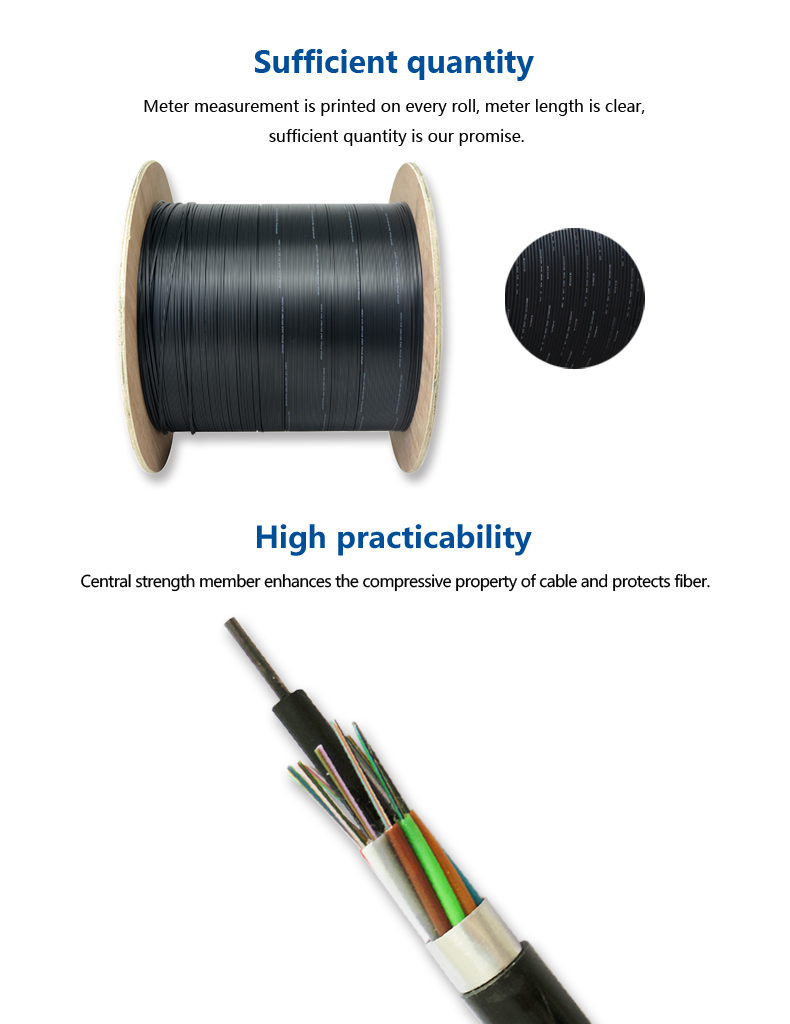 | | | | | | | |
| --- | --- | --- | --- | --- | --- | --- |
| Structure parameters: | | | | | | |
| Fiber count | Structure | Nominal diameter | Nominal weight | Permitted tensile Long term/ Short term (N) | Permitted crush Long term/ Short term (N) | Bend radius Static state/ Dynamic state (mm) |
| 2-30 | 1+5 | 9.3 | 78 | 600/1500 | 300/1000 | 10D/20D |
| 32-36 | 1+6 | 9.7 | 91 | 600/1500 | 300/1000 | 10D/20D |
| 38-60 | 1+5 | 9.8 | 86 | 600/1500 | 300/1000 | 10D/20D |
| 62-72 | 1+6 | 10.7 | 110 | 600/1500 | 300/1000 | 10D/20D |
| 74-84 | 1+7 | 11.4 | 118 | 600/1500 | 300/1000 | 10D/20D |
| 86-96 | 1+8 | 12.1 | 131 | 600/1500 | 300/1000 | 10D/20D |
| 98-108 | 1+9 | 12.7 | 143 | 600/1500 | 300/1000 | 10D/20D |
| 110-120 | 1+10 | 13.3 | 154 | 600/2000 | 300/1000 | 10D/20D |
| 122-132 | 1+11 | 13.9 | 167 | 600/2000 | 300/1000 | 10D/20D |
| 134-144 | 1+12 | 14.6 | 182 | 600/2000 | 300/1000 | 10D/20D |
| 146-216 | 1+6+12 | 14.7 | 190 | 600/2500 | 300/1000 | 10D/20D |
| 218-288 | 1+9+15 | 16.7 | 234 | 600/2500 | 300/1000 | 10D/20D |
| | | | | | | |