single flute carbide router bit/cutting tools for acylic and PVC
Product Description
Brand Name
Derui
Product name
single flute carbide router bit/cutting tools for acylic and PVC
material
Tungsten steel
Place of Origin
Jiangsu, China (Mainland)
Usage
Applicable:Acrylic, PVC, MDF, color panel and so on

SHK(mm)

CED(mm)

CEL(mm)

OVL(mm)
3.175
3.175
6 / 8 / 12 / 15
38
3.175
3.175
17
38
3.175
3.175
22
45
3.175
3.175
25
50
3.175
3.175
28
50
3.175
3.175
22
45
3.175
3.175
25
50
3.175
3.175
28
50
3.175
3.175
32
55
3.175
3.175
42
70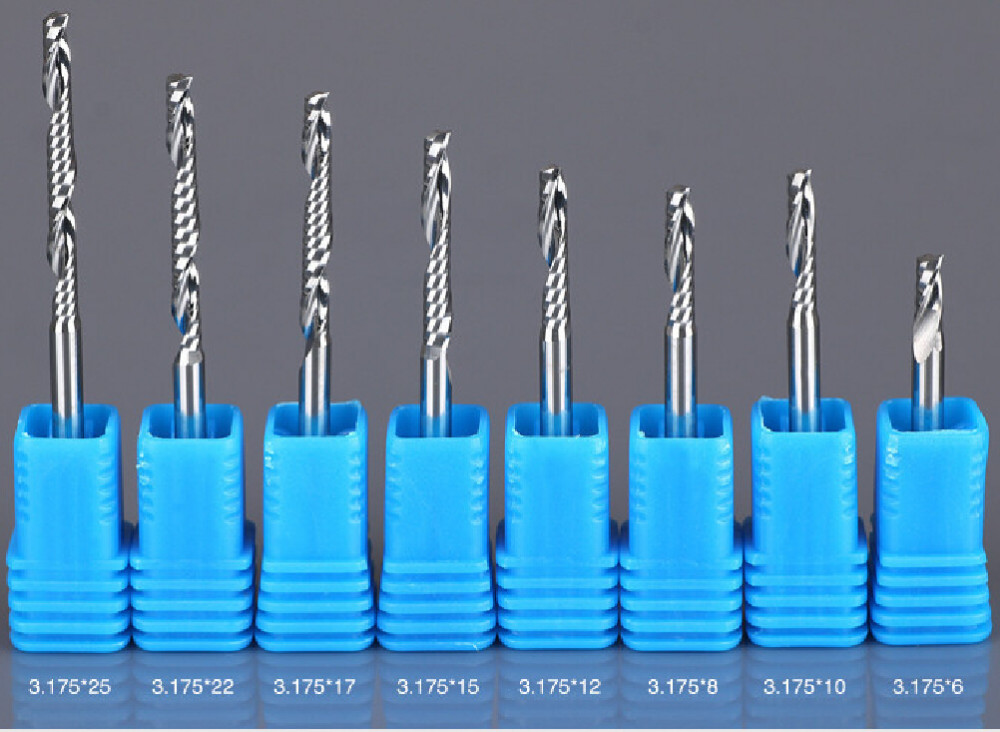 Our Services
24 hours service:
Contact:
Mob: 0086-17315718668
Tel:0086-0511-83175806
TM: deruicutter
Skype:mayqin2009
Payment
T/T(bank transfer), Western Union
Welcome send inquiry to us, pleasure to offer you best service. Thanks.
A Brief Introduction to our Factory
*A New Guy on Alibaba, but an Old Man in this Trade
The company's predecessor, Zhenjiang Hongfeng tool factory, was established as early as in 1990, so actually we have been manufacturing milling cutters for nearly three decades. We have a workshop of about 2000 square meters (See the attached picture) where a total of 33 cutter-making equipments are located. We have a very large share (about 5 million USD) in the China domestic market and our current customers are mainly big Chinese wholesalers and foreign trade companies. Now we want foreign customers, so we are here on Alibaba, waiting for you!
*Excellent Quality, Unbeatable Price
We only use high quality reliable carbide from Germany and Taiwan, etc. We use ANCA grinder (See the attached picture) to manufacture high quality milling cutters. We specialize particularly in making small shank (3.175 mm) milling cutters such as 3.175 mm single flute milling cutter and 3.175 mm engraving bit and their prices are unbelievably competitive.
*A large Inventory of a Wide Range of cutters
Ranging from single flute-four flute milling cutter, tapered ball nose end mill (cone cutters) , up&down cut bits, mini letter carving cutter, 3D engraving bits, two straight flute milling cutter, to engraving bit and PCB milling cutter (see attached picture), you name it, we have it all in stock! Therefore, it is very convenient for you to place a mixed order. In case we don't the cutter you need, we can custom make it for you.
For more information or samples, please send us an inquiry or add us on TradeManager. We promise doing business with us is enjoyable!