Product Overviews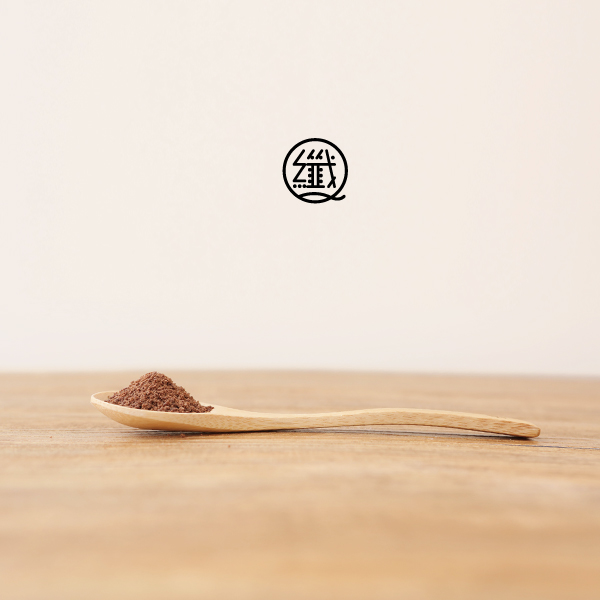 1111111111111
GENERAL DIET AND THE NUTRITION IS UPGRADE
RED BEAN WERE EXTRACTED BY HIGHT-TECH LOW-TEMPERATURE EXTRACTION TECHNOLOGY
GOOD TASTE AND HIGH CONCENTRATION
1
AGE-DEFYING DRINK
1
WHAT IS RED BEAN?
1
According to the ancient Chinese medical encyclopedia Compendium of Materia Medica, red beans are effective in helping women eliminate edema, tonify blood and ease menstrual cramps and discomforts. Italso has many other benefits, such as easing anemia and constipation.
1
The Instant Mix Drink of Red Bean from Good Eats is 20 times concentrated red bean extract powder (unlike regular red bean powder). One spoonful of powder amounts to one small pot of red bean soup prepared with 40 grams of red beans. Using low-temperature extraction process, the Instant Mix Drink of Red Bean is made with strictly pesticide-free red beans with no detectable pesticide residue according to the SGS test report. It is safe and effective.
1
Nutritional value
1
Red beans contain vitamin B1, B2, proteins, and a number of minerals. They are also rich in iron and folic acid, which are superior to synthetic iron oxides and folate.
Functions
1
111
1
11
1
11
11
111111111111111111111111111111111111111111111111v
1
1
FUNCTIONS
Eliminating Edema
Regulating menstruation period
Improving Anemia
Good for pregnant women
Improving constipations
Increasing breast milk supply
Ease constipation
1
USAGE
When: It can be taken at any time of the day.
How: Take it with 300 to 500ml of warm or hot water. You can also add any drink or juice of your liking.
How much: 1 to 2 cups a day is recommended.
Regular intake: Take it continuously for 30 days to see the marked natural effect.
1
Recommended drink mixes:
Instant Mix Drink of Red Bean with brown sugar: A cup of drink made with one spoonful of red bean extract powder and brown sugar before sleep is gently nourishing.
Red bean ginger tea: When you boil ginger for tea, add the red bean extract powder at the end to help regulate body constitution.
Red bean red date drink: One spoonful of red bean extract powder + one spoonful of red date extract powder (honey for flavoring recommended) provides the best natural supplement for women.
Red bean chrysanthemum tea: Add one spoonful of red bean extract powder into hot chrysanthemum tea or other kinds of floral tea to make the tea tastier and healthier.
1
1
Certifications
SGS certified for absence of any pesticide residue.
SGS certified for absence of any heavy metal residue.
SGS certified for absence of any preservative.
Important Features
SAFE - Our Instant Mix Drink of Red Bean is SGS certified for absence of pesticide residues and heavy metals.
20 TIMES POWDER CONCENTRATE - The Good Eats Instant Mix Drink of Red Bean is not like common red bean powder. It is high in active ingredients, low in calories and produces good effects.
NO ADDITIVES - No sugar, no coloring agents, no preservatives and no anti-oxidants.
HIGH CP (COST-PERFORMANCE) VALUE - Instant Mix Drink of Red Bean is cheaper and more effective than home cooking.
TIME SAVING - It saves the time spent on cooking red bean soup yourself while not knowing whether active ingredients in red beans are destroyed in the process.
CONVENIENT- Mix the powder only when you are ready to drink, so there will be no leftover.
FAST RESULTS - two to three days of intake produce the desired effects.
SIMPLE - No need to be concerned that "rupture of red bean skin", "high temperature boiling" and "addition of sugar" will destroy the activity of red beans.
NUTRITIONAL - Rich in folic acid and iron that offers timely help for women.
GREAT TASTE - No strange taste and the addition of honey or brown sugar makes it even tastier.
1
Company Information
Why choose E-JOY:
We've been exporting our products to U.S.A. Europe, UK ,Australia, South America,Asia ,Korea ,China, Japan, and many other countries.
We have a strong product, new idea development team and a professional designer's team.
We have distinct skill that can rich and extract essence
Good reputation for superior product performance and competitive price.
1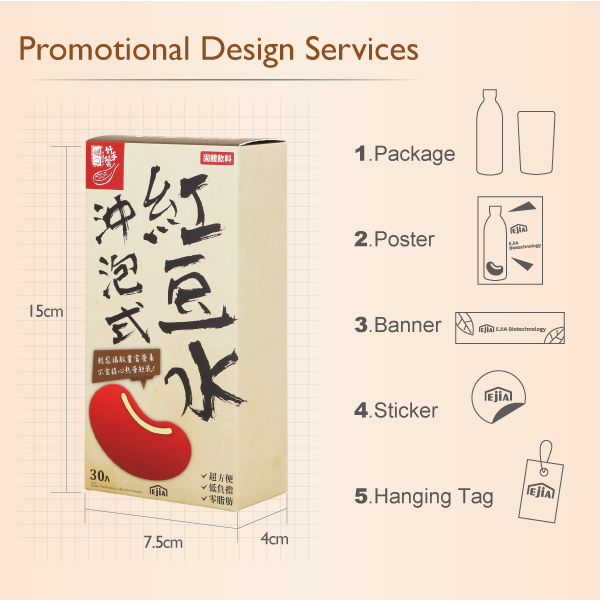 1
1
1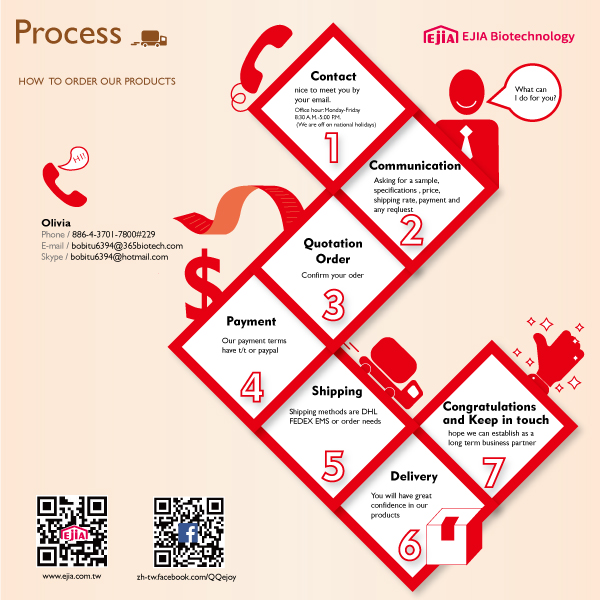 1
| | |
| --- | --- |
| Company name : | E-JOY Biotechnology Co.LTD |
| Title : | Design Driector |
| Wedsite : | www.365biotech.com |
| Address : | 27F.-2 No.787 Zhongming S. Rd. South Dist Taichung City 402 Taiwan (R.O.C.) |
| City : | Taichung City |
| State : | Taichung/Taiwan |
| Postal code: | 40255 |
| Country : | Taiwan |
| Phone : | 886-4-37017800 |
| Mobile phone : | 0989844422 |
| Website | http://www.e-joy.tw/ |
| Website on alibaba | http://365biotech.en.alibaba.com/ |
| Facebook | https://www.facebook.com/QQejoy |
| Fax : | 886-4-37017900 |
1
If you have any question, feel free to contact us !!
We can provide you about much best service
Please don't hesitate to contact me if you're interested in our products.