1, Company info
Hengyang Jianheng Industry Development Co. Ltd is Established in year 1958, We are a organization Mainly engaged in aluminum products and water treatment agent series products development, production, operation. Our range of chemicals is used in various industries such as textiles, water treatment, printing of books & posters and paint.
Our trademark "Lotus" was named in China.

Jianheng Industrial park located in Songmu Economic Development Zone, Hengyang city. and occupying area of 100,000 square meters, invested nearly 200 million yuan, Company passed ISO9001: 2008 quality system certification, ISO14001: 2004 environmental management system certification,
We are happy to make domestic and overseas friends on the basis of equality, mutual benefit and friendly cooperation.
Let's join hands and endeavor for the water purification, environment-protection and the construction of a beautiful homeland.
2, Aluminium Sulphate production and cooling line, reagent acid production line, and Poly aluminium chloride production dryer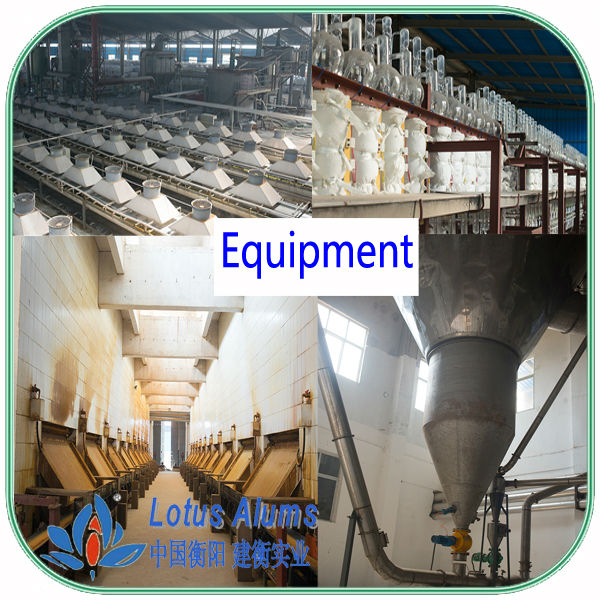 3, Our office building and factory, a gardening factory welcome you inspection:
4, Aluminium sulphate and Polyaluminum chloride auto packin robot and warehouse:
5, Our products for export, including:
Aluminium sulphate, ferric and without ferric, purity from 15.6% to 17%, FOB price from $145--$195 based on quality requirement retails;
Poly Aluminium Chloride, for industry grade and drinking water grade, purity from 27% to 30%, appearance in normal yellow and high quality purity white PAC. FOB price from $245--$400 based on customer requirement details;
Potassium alum and Ammonium Alum, purity ≥99.5%, food grade.
Welcome inquiry!
any questions please email us, we alway hope to discuss with you about the products application, cooperation and other more issue. Be our partner or let us be your partner ~