JGH –Z-Y Copper Head Conductor Rail Electrical Equipment Supplies
for heavy loading and severe enviroment power supply
JGH –Z-Y system is made up of copper rail, rail bracket, electrical insulator components and external current collector.
The characteristics are heavy current, thermo stability and corrosion resistance.
It is wildly applied to the metallurgical industry, shipbuilding industry, harbor handling and so on.
Main technical parameter
Rated voltage: 380V
Rated insulated voltage: 660V
Rated peak withstand current: 30xrated current 0.1s
Rated short-time withstand current: 15xrated current 1s
insulator insulation resistance: ≥ 50 MΩ
Dielectric properties of conductor and insulator: no breakdown at 380V 3.75KV( 3000V,6000V 4.5m 5S
Ambient temperature: -40~+100 Degrees Celsius
Product introduction of Copper Head Conductor Rail Electrical Equipment Supplies
JGH –Z-Y Assembly type rigid body sliding contact line is combined the trapezoidal electrolytic copper bar and convex type cold rolling steel base rail by the special copper cleat. This system is supported by high duty insulator, mobile supply power for the lifting equipments.
Compared to angle iron and light rail sliding contact wire, the compound system is more reliable, low impedance, low power loss and energy saving. It can be applied to severe environment with high ambient temperature, corrosion gas and so. The high mechanical strength makes the rail not easy to bend and deform.
It can be frontal mounted or side mounted. As per customer's requirement, the voltage can reach over 3KV.
Technique parameter of Copper Head Conductor Rail Electrical Equipment Supplies :
Cross section(mm2)

85

110

170

240

320

400

500

170*2

240*2

320*2

400*2

rated current (A)

320

400

580

780

1000

1200

1450

1150

1500

1950

2350

20°C(R) resistance (R)

(x 10-6ohm/m)

129

103

74

57

45

37

33

38

30

23

19

Distance 350mmimpedance(Z)

( x 10-6ohm/m)

166

129

86

65

50

43

39

45

35

27

22

base width(mm)

60

80

insulator height(mm)

(380V) 75 (3000V)100 (6000V) 125

insulation bolt

16mm

Max. bracket space

2m

3m

expansion coefficient of cross section

18 x 10-6/°C

phase space(mm)

frontal mount 350-380 side mount 280-290

frontal mount 380-400 side mount 290-300

length

4.5m
Copper Head Conductor Rail Electrical Equipment Supplies Installation accessories: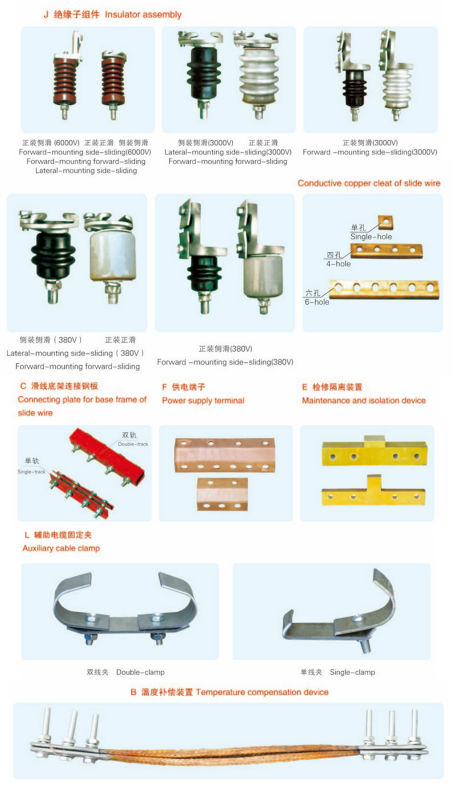 Copper Head Conductor Rail Electrical Equipment Supplies Installation drawings:
Application
Other conductor rail systems
low power, low voltage, low speed, but no joint conductor rail, which is easy to intall and commercial
current:30A-140A
Low voltage ,low power, multi conductor rail, which is easy to install and maintain with good performance
30A-300A, 3-16 poles
heavy duty copper conductor rail
150A-3000A 3 phase 3 wire, 3 phase 4 wire, 3 phase 5 wire
Heavy duty aluminum conductor rail
150A-3000A 3 phase 3 wire, 3 phase 4 wire, 3 phase 5 wire