Description:
1. Custom Classical varsity jacket
2. Suitable for men and women
3. Wholesale and factory price
4. OEM services
5. Fashion style
The classic leather varsity jacket is crafted in a superior quality we can use any fabric on any panel at your request, but we mostly use 80% virgin wool body and top-grain cowhide leather sleeves. The quilt lining fill inside to keep you warm, even during the coldest days. Specially treated leather allows for safe dry cleaning. Available in any requested size.

Colors : (can be Custom)

First Color = Body
Second Color = Sleeves
Third Color = Trim

Black/Red/Red, Purple/White/White, Red/White/White, Maroon/White/White, Kelly/White/White, Dark Green/White/White, Black/White/White, Dark Royal/White/White, Light Royal/White/White, Light Navy/White/White, Dark Navy/White/White, Dark Green/Gold/White, Light Royal/Athletic Gold/Athletic Gold, Dark Navy/Athletic Gold/Athletic Gold, Purple/Athletic Gold/Athletic Gold, Maroon/Athletic Gold/Athletic Gold, Dark Navy/Dark Navy/Dark Navy, Red/Black/Black, Black/Black/Black, Black/Black/Athletic Gold, Black/Black/Red, Black/Orange/Orange, Maroon/Maroon/Maroon, Dark Green/Dark Green/Dark Green, Navy/Navy/Light Gold,Navy/Light Gold/Light Gold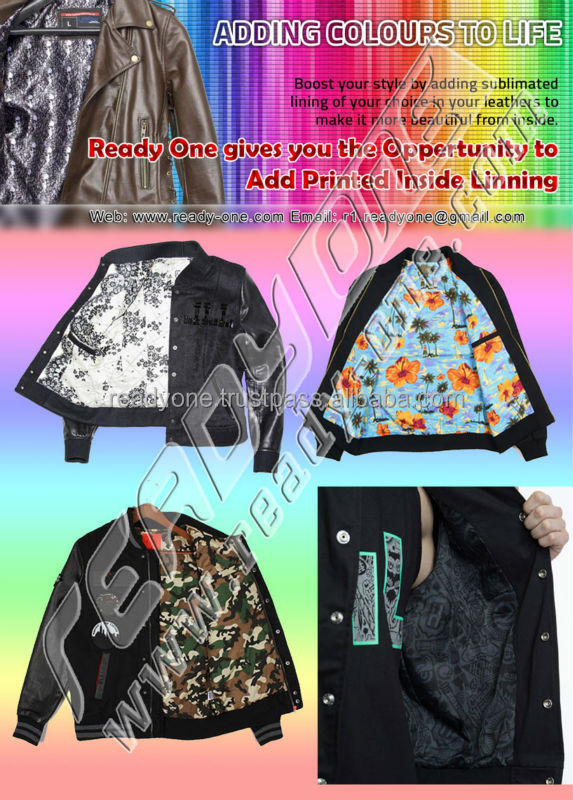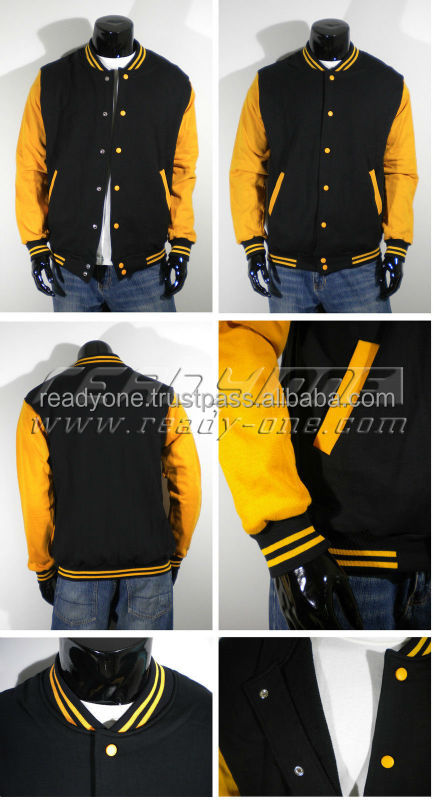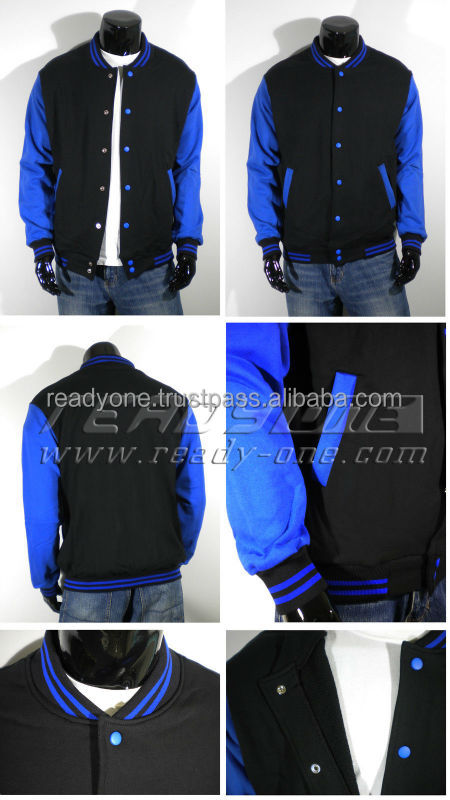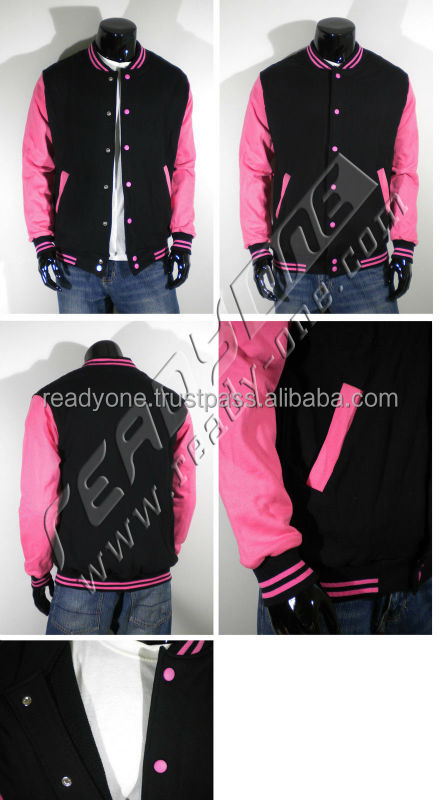 Company Information
Ready One has been the leader of innovation and quality in Sportswear & Apparel category. We provide unique services, products and meet more than customers expectations. But commitment to the game goes beyond what we provide. When you are looking for best, we can do it. When you want rush orders, we can do it.

We never lose sight of our vision to make people feel good, through the products and the service we provide every day. We are dedicated to provide Total Customer Service.
Our Services
Ready One can customize varsity/letterman jackets at very competitive with your name, team name or school, colleges logos.
FAQ
Samples delivery time:
3 to 4 working days for samples producing time and 4 days for DHL or FedEx transit time.
Order production time:
Depend on volume of order.
Payment:
Paypal, Credit Card, Bank Transfer T/T, Western Union, Moneygram.
Return/Refund Policy:
Free replacement on manufactruing defect.
Please contact us for more information on pricing and models details.
Packaging & Shipping
Ready One mostly use Poly Bag , but any requested packing can be use, we mostly use DHL Express Service but can be use any other service at customer's request.